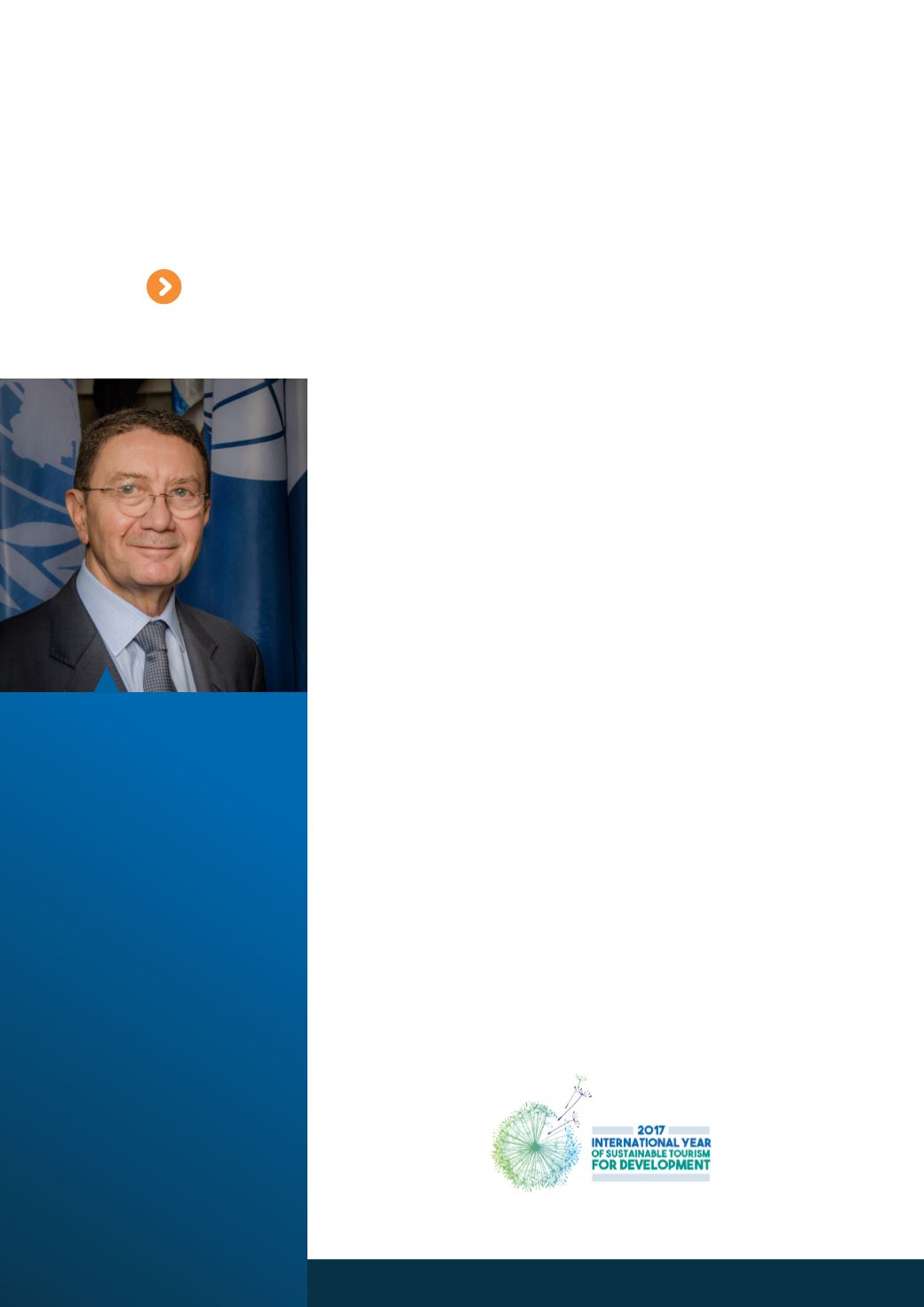 4
|
2016 
|
2017 HOTREC ANNUAL REPORT
"This year marks the
end of my time as
UNWTO
Secretary-
General, yet the strong
partnership between
UNWTO and HOTREC
continues in several
priority work areas"
Over the past decade or so, tourism has cemented its position as one
of the world's most important and impactful socio-economic sectors,
growing in relevance for millions around the world as a passport to
prosperity, peace and understanding among people of all walks of life.
From 809 million in 2005, international tourist arrivals soared to a new
historic record of 1,235 million in 2016. Last year was the seventh
consecutive year of above-average growth in people visiting other
countries for tourism, and bringing benefits to countries, communities
and societies.
Europe, the world's most visited region, received 10 million more
international tourist arrivals in 2016 than in the previous year, totalling 620
million arrivals — over half the world total. Nearly 500 million visited the
EU-28, which reported growth of 4.6% in 2016. 2017 is expected to bring
further growth of 2% to 3% to the Europe region.
In terms of European tourism spending, Germany, the United Kingdom,
France and Italy all reported growth in outbound demand in 2016. Growth
in outbound travel from these countries, and from long-haul markets such
as China and the United States, strongly benefited many destinations in
Europe.
Building on the increasing commitment of the tourism sector to
take responsibility to contribute to the 2030 Agenda for Sustainable
Development, 2017 is being celebrated as the International Year of
Sustainable Tourism for Development. This is a prime awareness-raising
opportunity, at the highest political level, of tourism's role to contribute to
the three pillars of sustainability – social, economic and environmental –
as well as to global peace.
Such a contribution can only be realized with the help of partnerships,
which is why UNWTO is very pleased to count on the longstanding and
firm relationship with HOTREC.
This year marks the end of my time as UNWTO Secretary-General, yet the
strong partnership between UNWTO and HOTREC continues in several
priority work areas. I trust it will continue to bolster the hospitality industry
in Europe and its growing contribution to a more inclusive, equitable and
sustainable tourism sector for people and planet.
MESSAGE FROM MR. TALEB RIFAI,
SECRETARY GENERAL OF THE WORLD
TOURISM ORGANISATION (UNWTO)