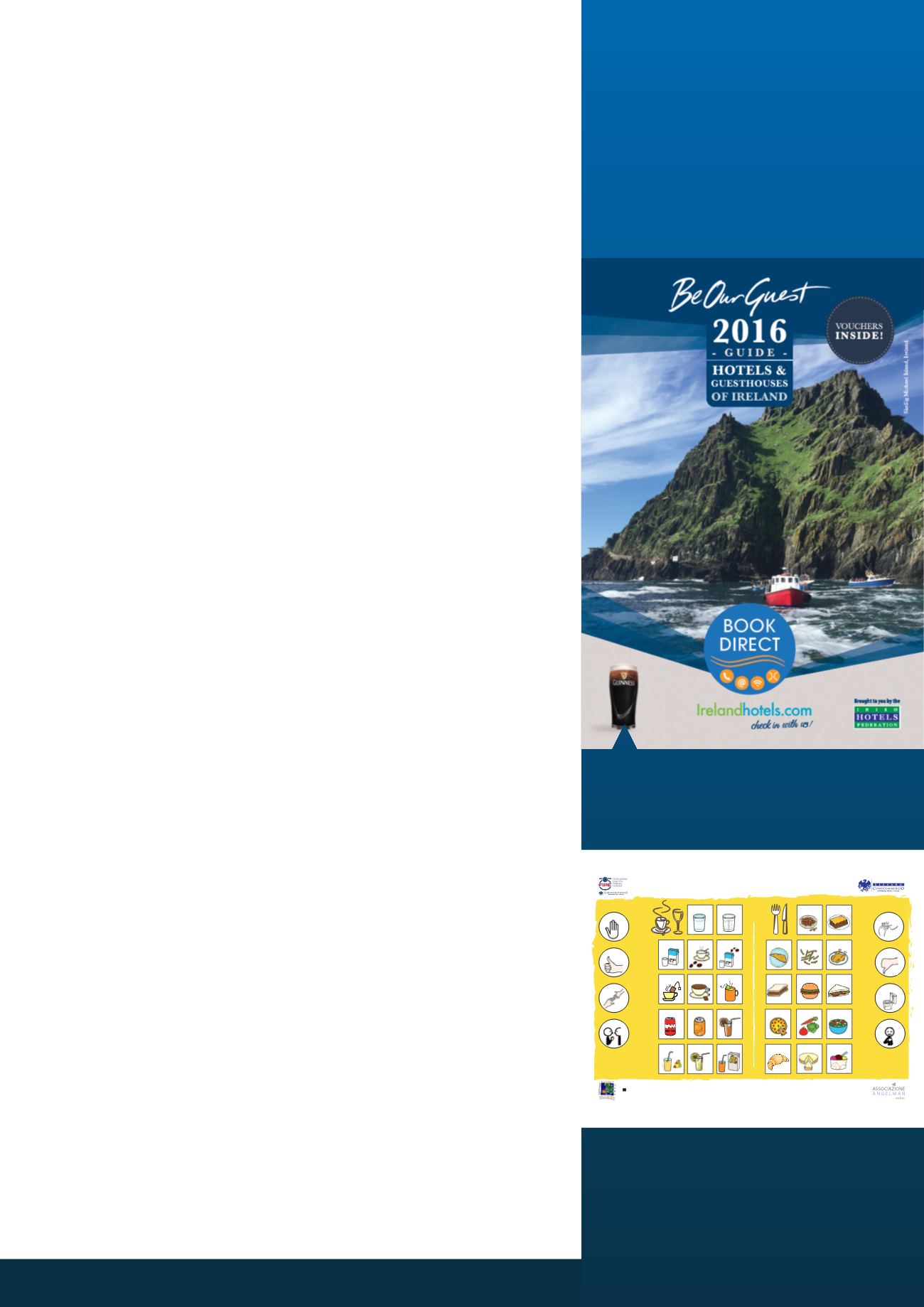 Latovagliettaèpensataper ibambinietutticolorochehannodi coltàcomunicative.Èrealizzata inComunicazioneaumentativaalternativa (CAA),unapproccioche facilita lacomunicazione.
INFO
:mail info@
pe.it
- tel.06.58.39.21
toast
latte
cappuccino lattemacchiato
aranciata
cocacola
tè freddo
frullato
succodi frutta
toast
panino
tramezzino
pollo
cotoletta
pat tine
pastasciutta
lasagne
verdure
insalata
cornetto
torta
gelato
basta
per favore
grazie
A S C O M
ancora
mipiace
aiutami
nonmipiace
bagno
spremuta
cioccolata
camomilla
pizza
acqua
acqua frizzante
tè caldo
nonperusoalimentare
2016 
|
2017 HOTREC ANNUAL REPORT
|
17
HOTREC serves as a hub for its Members to share their best practices
in priority fields for the hospitality industry. As part of it in 2016, HOTREC
provided itsMembers a forumwherewere presented best-practices on the
"book direct" campaign in Ireland, on a new tool to help disabled children
in Italy and on the Danish apprenticeship scheme. It also organised a
workshop to improve association management and finances.
Direct hotel booking: an effective campaign conducted by
the Irish Federation of Hotels
In December 2015, HOTREC launched its 'Book Direct' campaign. The
campaign recognizes the different distribution and booking channels
and emphasises the advantages of booking direct and having the direct
contact with the service provider.
In 2016, among many other countries, Ireland took advantage of the
campaign and made publicity for it via various channels. Inter alia, the 'Be
Our Guest' guide, thepremier Irishaccommodationguide, ofwhich150.000
copies are published every year, featured the campaign prominently. The
guide is promoted in 22 countries and throughout Ireland in tourist offices
and key touristic locations. The campaign has sensitised Irish hoteliers to
consider and adopt various strategies to increase direct bookings. There
is no doubt about the importance of direct bookings for the Irish hoteliers,
most of which having specific strategies to drive direct bookings. The
majority of surveyed Irish hoteliers have made use of the 'Book Direct'
campaign and its tools via different media and communication channels.
Supporting people with a disability to ease communication
with the staff of restaurants: an inspiring initiative led by
the Italian HOTREC Member FIPE
Around 15% of the world population experience some form of disability.
In Italy it affects around 8 million people. Building on the difficulties
experienced by children suffering from cognitive problems, a pilot was
launched in Bergamo to find solutions to facilitate their ability to express
themselves more easily in restaurants. It resulted in the creation of a visual
placemat, which ease considerably the communication with restaurant
staff. Since its launch, the placemat has been further developed and
distributed by HOTREC's Member FIPE all over Italy. It is finding more
and more use and acknowledgement in the different restaurants, bars,
canteens and regional institutions all across Italy.
BEST PRACTICES AND
KNOWLEDGE SHARING
ACTIVITIES